WATCH: Critics Clash Over "Toy Story 4" Not Having Any Black Lead Characters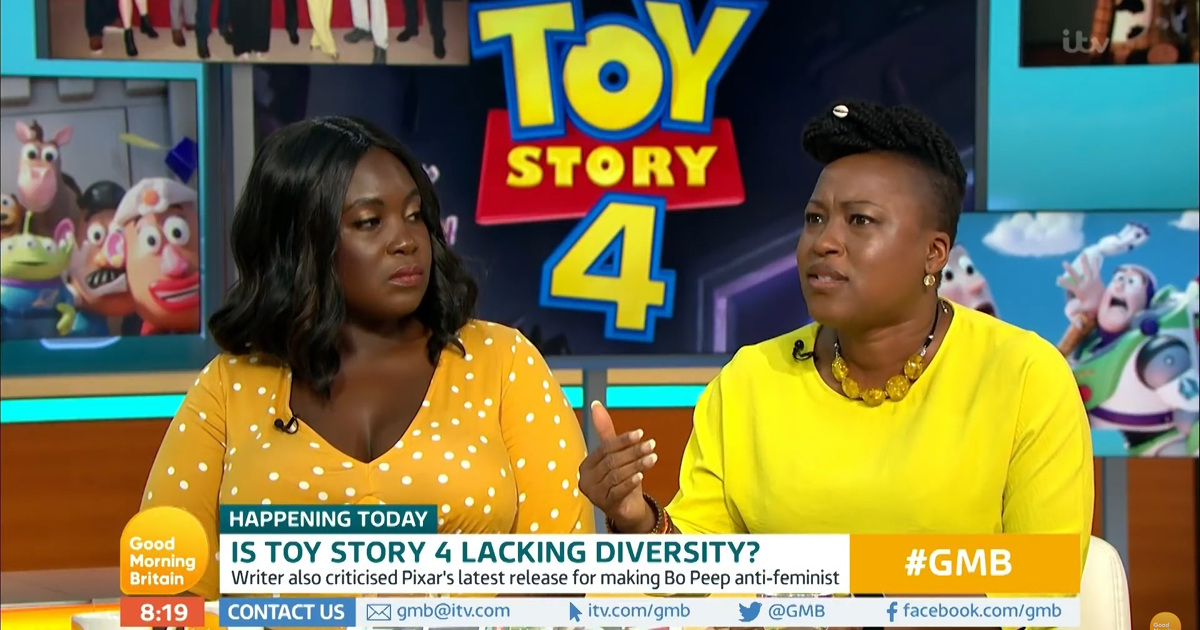 Toy Story was a beloved film that was part of my childhood (and maybe yours too). Nearly 25 years later, the final installment, Toy Story 4, just hit theaters and some critics are pointing out the franchise's flaws and wondering: Where are the black characters?
Two black critics clashed on Good Morning Britain while discussing the lack of black lead characters in Toy Story 4.
Despite the film having black voice actors (Keegan Michael-Key, Jordan Peele), Shola Mos-Shogbamimu argued that Disney-Pixar could do better in sharing diverse experiences and any adult who dismisses the criticism is "diabolically ignorant."
"Children deserve to have a representative teachable moment of their lived experience," she said. "We know toys don't talk, we know they don't fly, but entertainment must always have a moralistic value."
Mos-Shogbamimu continued:
"Animation and fictional characters take on human characteristics for a reason, to tell a moral story of good overcoming evil, good overcoming against the odds.

"Children are diverse and have diverse experiences. Movie companies like Pixar and Disney have a global platform to become part of the evolution of diversity and inclusion."
However, Glam Africa Magazine editor-in-chief Afua Adom pushed back, stating the film did the best it could with diversity.
"People have missed the point of Toy Story – it's a story about toys," she said. "It's about Mr. Potato Head, it's about Buzz Lightyear, it's about Woody. I think I saw a diverse range of characters."
Adom also noted the black actors used to voice some of the characters.
And though there aren't any black leads in the film, Adom acknowledged the plot and new main character Forky (a plastic fork) did present a teachable moment for children: sustainability.
"When we watched it, my daughter picked up on 'Hold on, why is Forky is trying to get back to the trash? Shouldn't he be trying to get back to the recycling?'"
The debate was sparked by white writer Stella Duffy who recently slammed Toy Story 4 for having no black lead characters in a review.
just had my first-ever reviewing hate email as a result of noting (on #SaturdayReview) that #ToyStory4 only has white toy leads & the Mamet is, er, misogynist. Lengthy email also notes Weinstein AND Spacey's problems are due to feminist conspiracy. so, obv, taking it seriously.

— Stella Duffy (@stellduffy) June 24, 2019
Duffy also called the film disablist and anti-feminist for its depiction of Bo Peep.
"Okay, let's talk about the white feminism on display here. Oh look! Bo-Peep's a feminist. No she's not! She's still going to fall in love, she's still going to have the happily ever after, that's not feminism!

"It's a woman who kicks off her skirt to reveal bloomers. Had a couple of thoughts… and does some high wire acts. And it's disablist! It covers ALL bases!"
When a Good Morning Britain anchor asked if Bo Peep was a feminist, Adom swiftly responded: "She's a toy."
However, Mos-Shogbamimu was a little more willing to give the character some credit.
"If we understand that feminism is about women's rights and women being able to make whatever choices they want without anybody judging them – as far as I'm concerned, then every woman is a feminist," she said.
While films, be it animated or live-action, should be diverse and have some moral value or teachable moments as Mos-Shogbamimu suggests, Toy Story doesn't necessarily have the opportunity to have lead black characters because they are—after all—just toys.
I guess next time, add a Black Barbie or a Bratz Doll and get Tyra Banks to voice the character!
WATCH: Critics Clash Over "Toy Story 4" Not Having Any Black Lead Characters is a post from: Gossip On This – Pop Culture, News & Videos
Whitney Houston Shades Paula Abdul in Documentary Trailer: "That Woman Is Singing Off-Key on the Record!"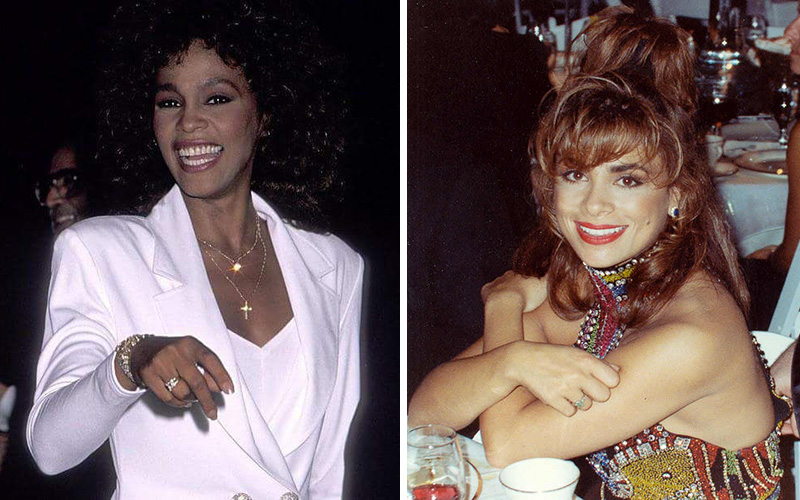 Whitney Houston was understood for her voice, however she was likewise recognized for another thing: Her happily shady remarks!
Remember when she went all the means AWF on Wendy Williams back in 2003?
At one point in the "discussion," Whitney basically informed ole woman to " money [her] ousside" and called Wendy out for her looks. Whitney's words specifically: "If this were in the past in Newark, I 'd satisfy you outside" and "I make certain when you look at yourself in the mirror you have some reservations regarding your look, too … I've seen you! I RECOGNIZE how you look!"
And we can't forget that Diane Sawyer meeting when, in reaction to claims that she was a medication abuser, especially of the crack cocaine variety, she got homegirl all the means together. "First of all, allow's obtain one point straight," she claimed while getting hold of a cup of tea.
Reacting to rumors as well as tabloid headings that she invested $730,000 on her medication practice, she after that uttered the currently iconic words, which we make use of in the blog sites and on social media sites all the time to confirm whether or not something is actual: " I WAN NA SEE THE RECEIPTS!"
So, yeah, Whitney Houston was a journey. And also in the trailer for her forthcoming docudrama "Whitney," we obtain to see a load of behind the scenes video, including a moment where she shields the fawk out of Paula Abdul, who was her market opponent at the time.
Whitney was resting down with her mommy, Cissy Houston, and was chatting about the hazards of popularity when she brought Paula Abdul into the discussion.
When I saw that trailer for the very first time, that line took me OWT, I inform you, as well as I will definitely be mosting likely to the cinemas to see the documentary when it is launched on July sixth.
The movie, routed by Kevin Macdonald promises to showcase an "unmatched, unflinching and also straightforward" portrait of the late vocalist as well as it features interviews with most of her buddies and also member of the family who were ready to splash all type of Whitney tea on camera.
However all of it isn't full of laughs. One heartbreaking discovery from Whitney's past was that she was sexually abused by her older cousin, Dianne Warwick's sister Dee Warwick.
Whitney's long time aide Mary Jones declares that being molested by her older cousin made Whitney question her own sexuality as well as contributed to her troubles with alcohol as well as drug abuse, though Whitney never ever spoke openly about her own alleged drug abuse.
Jones states in the docudrama, "I assume she repented … she made use of to state, 'I question if I did something to make [Dee Dee] think I wanted her.' I claimed, 'Stop. A predator is a killer is a killer.' If Cissy had actually understood, she would certainly have found a solution for it, because Cissy enjoys her youngsters.'"
" We always desired our movie to be a corrective to that tabloid tale," stated producer Simon Chinn. "These specify discoveries that I think will certainly obtain people to a deeper understanding of who Whitney was as well as in lots of ways retrieve her as an individual."
Whitney Houston Shades Paula Abdul in Docudrama Trailer: "That Lady Is Singing Off-Key on the Document!" is a blog post from: Gossip On This – Pop Culture, Information & & Videos
Whitney Houston Was Molested By Dionne Warwick's Sibling Dee Dee, Family Members & & Friends Case in New Docudrama (VIDEO)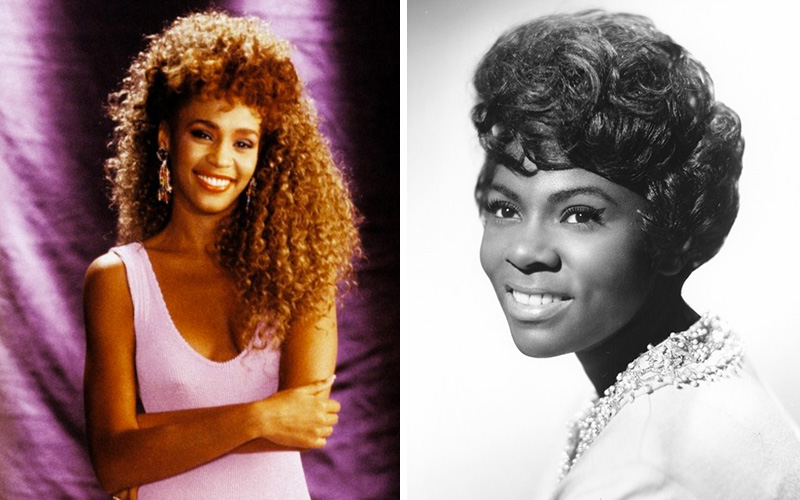 A new docudrama accredited by Whitney Houston's estate reveals the heartbreaking discovery that Whitney was sexually abused by her cousin Dee Warwick– the sis of the fabulous Dionne Warwick.
In "Whitney," which was made with the collaboration of Houston's household, the vocalist's long time assistant Mary Jones informs filmmaker Kevin Macdonald that the late singer informed her that Dee molested her at an extremely young age.
Houston's own sibling, Gary Garland-Houston, additionally says he was molested in between the ages of 7 as well as 9 by Dee Dee, and thought his late sis was abused.
Dee Warwick, who was 18 years Houston's elderly, passed away in 2008, 4 years prior to Houston passed away in a bath tub, which remained in component triggered by heart problem and substance abuse, according to a coroner's report.
The stunning revelations happen three-fourths quarters of the method into the movie, as well as right away cast a brand-new light on Houston's distressed life.
Jones claims that being molested by her older relative made Whitney question her own sexuality and also added to her issues with alcohol and also substance abuse, though Whitney never spoke publicly about her very own declared drug abuse.
I said, 'Stop.
" We always desired our movie to be a restorative to that tabloid tale," said producer Simon Chinn. "These specify discoveries that I assume will get individuals to a much deeper understanding of that Whitney was and in many methods retrieve her as a person."
Dee Warwick was the niece of Whitney's mother, Cissy Houston. Dee and her sis Dionne would certainly often sing in Cissy Houston's gospel group, the Drinkard Sisters. Dee Warwick, that earned two Grammy Award nominations in her occupation, likewise sang backup for Wilson Pickett, Aretha Franklin as well as others.
" Whitney," which premiered at the Cannes Movie Festival Wednesday (Might 16) is set up for an across the country launch in cinemas this summertime on July 7th, recommends the claimed cases of sexual assault took place while Cissy Houston was exploring.
As a result of what occurred to her as a kid while her mama was away exploring, Whitney is stated to have demanded taking her little girl with Bobby Brown, Bobbi Kristina Brown, on scenic tour with her. Bobbi Kristina passed away in 2015 after she was found less competent in a tub and was gotten rid of from life support following a six-month-long coma.
Kevin Macdonald, the director of "Whitney," provided a comprehensive interview regarding just how he verified the stunning sexual abuse accusations simply weeks prior to he completed the movie in an unique interview with IndieWire
" I had a feeling that there was something like that behind it," he said. There was something concerning her discomfort in her own skin, something regarding the way she offers or conceals herself, her absence of overt sexuality.
View the trailer for "Whitney" listed below:
Whitney Houston Was Molested By Dionne Warwick's Sister Dee Dee, Family Members & & Pals Insurance Claim in New Documentary (VIDEO) is a message from: Chatter On This – Pop Culture, News & & Videos
Peter Ramsey (" Spider-Man: Into the Spider-Verse") is Initial Black Director to Win Oscar for Best Computer Animated Function Movie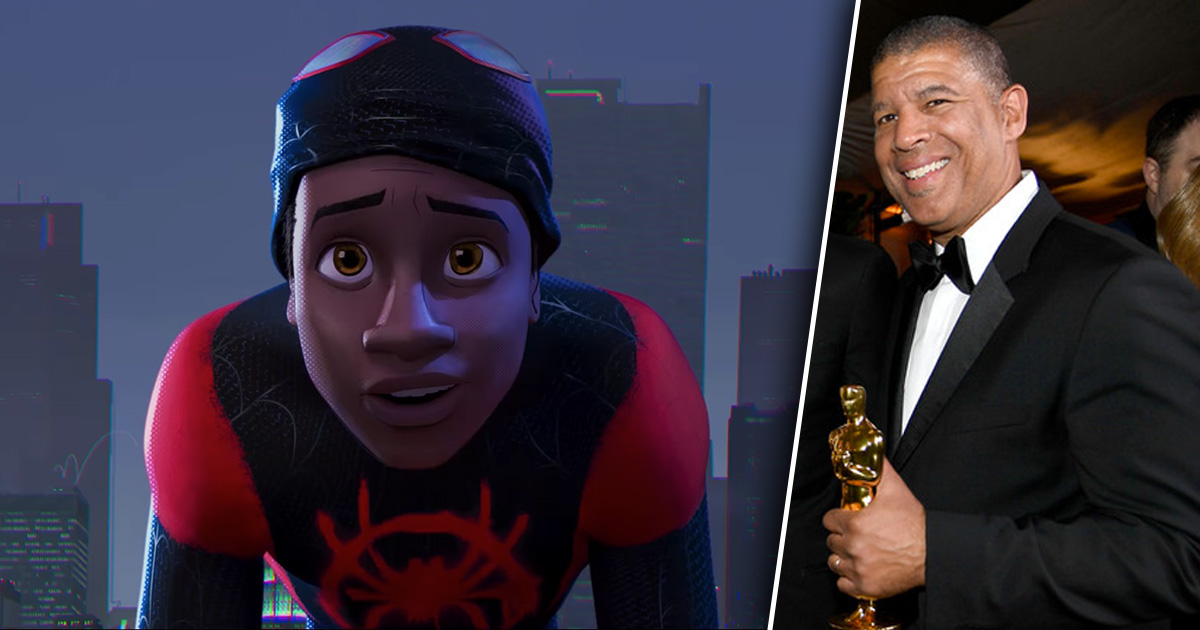 The 91 st Yearly Academy Awards was a huge night for black developers and entertainers.
In the middle of historical victories from actors Regina King and also Mahershala Ali, director Spike Lee, and Black Panther's production designer Hannah Beachler as well as costume developer Ruth E. Carter … "Spider-Man: Into the Spider-Verse" supervisor Peter Ramsey made background Sunday night (Feb. 24) as the very first black supervisor win an Oscar for Finest Animated Attribute.
Peter Ramsey (" Spider-Man: Into the Spider-Verse") is the initial black director to ever before win the Oscar for Best Computer Animated Function. #Oscars pic.twitter.com/Tnq29 duNak

— AJ+ (@ajplus) February 25, 2019
Sunday's win marked among the biggest awards to day for a title based upon Wonder characters, in addition to "Huge Hero 6," which additionally won the animated attribute prize in 2015
" Spider-Man: Into the Spider-Verse" has to do with a 13- year-old Black Puerto Rican child from Brooklyn named Miles Morales (articulated by Shameik Moore), who turns into one of several Spider-Men, and the experiences that follow.
Ramsey stated of the film's story: "Any individual can put on the mask; everybody is powerful as well as everyone is necessary, and that is the spirit of the film."
" Spider-Man: Into the Spider-Verse" was an unexpected box office success for Sony and also Marvel, grossing almost $360 million worldwide on a $90 million spending plan.
The film– which, along with Peter Ramsey, was additionally co-directed by Bob Persichetti, Rodney Rothman, Phil Lord and also Christopher Miller– was only the second Sony Pictures Animation movie ever before nominated for an Oscar after 2007's "Browse's Up."
While accepting the honor, Phil Lord celebrated what the depiction in the movie suggested for many people, particularly young Black and Spanish boys.
" When we hear that someone's youngster was viewing the movie and looked to them as well as claimed, 'He resembles me,' or 'They speak Spanish like us,' we feel like we already won," he claimed.
Peter Ramsey spoke for a minute as well, directly giving thanks to the countless individuals that went as well as acquired tickets for the film, however by the time Bob Persichetti got to the mic, the group of supervisors as well as screenwriters had actually currently run out of their time (the Oscars were running on a very limited routine this year, obviously) so producers muted the mic and reached business.
Persichetti said it's a pity because all he needed was a few fast secs to thank legendary comic book author Stan Lee as well as Lee's "Spider-Man" co-creator Steve Ditko for being inspirations to him and the other "Spider-Verse" directors. Lee as well as Ditko both died in 2018 within months of each other.
Bob Persichetti was on stage alongside co-directors Rodney Rothman and also Peter Ramsey when they lacked time throughout the speech for Ideal Animated Film.

Talking backstage, Persichetti stated he was about to give thanks to Lee as well as Steve Ditko, the co-creators of Spider-Man, for inspiring the filmmakers.

Lee, the creator of Wonder, died in November aged 95 while Ditko passed away in June at the age of 90.

Persichetti said: "We were simply mosting likely to say thanks to Stan Lee as well as Steve Ditko for motivating this entire point and also for being a pressure of believing that everybody, human beings, have the possibility, the ability, to be heroes."

He said from "day one" the filmmakers desired the flick to "test the audience to rely on themselves and also rely on their neighbor and also really declare and also make a distinction in the world."
" Spider-Man: Into The Spider-Verse" won ahead of candidates including Pixar's "Incredibles 2," Disney's "Ralph Breaks the Web," "Island of Dogs" and also "Mirai."
Spider-Verse's Finest Computer animated Feature Oscar win was an initial for all 3 directors.
Click On This Link for the complete checklist of winners.
Peter Ramsey (" Spider-Man: Into the Spider-Verse") is Initial Black Supervisor to Win Oscar for Finest Computer Animated Attribute Movie is a post from: Chatter On This – Popular Culture, Information & & Videos