Trump campaign works to set narrative ahead of pivotal debates with Biden
The Trump campaign is already looking forward to the first presidential debate at the end of the month, eyeing the one-on-one format with Democratic nominee Joe BidenJoe BidenSenate Republicans face tough decision on replacing Ginsburg What Senate Republicans have said about election-year Supreme Court vacancies Biden says Ginsburg successor should be picked by candidate who…
The Trump campaign is already looking forward to the first presidential debate at the end of the month, eyeing the one-on-one format with Democratic nominee Joe Biden
Joe BidenSenate Republicans face tough decision on replacing Ginsburg What Senate Republicans have said about election-year Supreme Court vacancies Biden says Ginsburg successor should be picked by candidate who wins on Nov. 3 MORE as the best remaining chance to sway voters toward the president.
Trump and Biden will square off for the first time on Sept. 29 in Cleveland. The pandemic-altered campaign season, which has left the candidates with fewer opportunities to meet voters face-to-face, has put an even greater emphasis on the debates.
Even after getting a slight boost after the Republican National Convention, Trump still trails Biden in the polls by a healthy margin nationally, and by a few percentage points in most battleground states.
Trump will likely need a strong performance in the debates to reassure wavering independents and Republicans.
"He is certainly tightening and coming back, and the debates this time will be more important than ever because there aren't rallies," said Sam Nunberg, an adviser to Trump's 2016 campaign. "I believe they will be more watched because more people are staying home."
The Trump campaign has been aggressive about setting expectations and lobbying for changes to the debates that they believe work in their favor.
Trump had previously criticized the Commission on Presidential Debates, accusing the nonprofit, bipartisan group of bias and raising questions about whether he would participate in the 2020 debates.
But Trump's campaign, seizing on comments from Speaker Nancy Pelosi
Nancy PelosiPelosi: Ginsburg successor must uphold commitment to 'equality, opportunity and justice for all' Bipartisan praise pours in after Ginsburg's death Pelosi orders Capitol flags at half-staff to honor Ginsburg MORE (D-Calif.) and opinion columnists in the media who have argued Biden should avoid the debates, have attempted to sow doubt about whether the former vice president will show up.
Trump campaign communications director Tim Murtaugh suggested to reporters on Wednesday that any last-minute change in venue due to the pandemic could allow Biden to "retreat to his remote video link and Skype call campaign that he's running and do the debate from his basement, where he can rely on notes, a teleprompter or a handler behind the camera."
Biden has committed to the debates and repeatedly said in recent days that he looks forward to going head-to-head with Trump.
"I've begun to prepare by going over what the president has said, and the multiple lies he's told," Biden said during a rare news conference Wednesday, musing about the benefits of having a live fact-checker on the screen during the debates.
"I'm looking forward to debating the president and I'm going to lay out as clearly as I can what I think we have to do to bring this country back," he added.
The Trump campaign has made other overtures to the Commission on Presidential Debates, requested a fourth debate and advocated for an earlier event before mail-in ballots are sent out. Rudy Giuliani
Rudy GiulianiGrand jury adds additional counts against Giuliani associates Lev Parnas and and Igor Fruman Juan Williams: Breaking down the debates Giuliani criticizes NYC leadership: 'They're killing this city' MORE, writing on behalf of the campaign, also provided two dozen recommended moderators who would satisfy the president.
Experts have equated these appeals as an attempt to "work the refs." But they have all been rejected. The commission has said it will only add another debate if both sides agree to do so, and when the three moderators were announced this week, none were among the Trump campaign's preapproved list.
Much of the Trump campaign's messaging efforts around the debates have been focused on Biden in particular. Trump, asked earlier this month what Biden brings as a debater, replied that the former vice president is "shot." He told reporters this week his opponent "doesn't have a clue."
The Trump campaign's digital operation has become hyper-efficient at cutting and editing clips of Biden stumbling over his words and portraying him as a bumbling candidate who has mentally declined.
The unusual strategy has lowered expectations for Biden, 77, who earned positive reviews for delivering his speech at the Democratic National Convention without issue.
"The Trump folks from the get-go have been violating all the rules we know about what is successful with setting expectations, and that is to lower them for yourself and raise them for your opponent," said Mitchell McKinney, director of the Political Communication Institute at the University of Missouri.
There is pressure on Trump to perform based on the way he has talked up his physical and mental abilities compared to Biden. But McKinney noted that incumbents have a history of stumbling out of the gate in their first debates, pointing to then-President Obama in 2012 and George W. Bush in 2004.
The president is not known for being a disciplined messenger or a rigorous study. Asked last month about debate prep, Trump only mentioned to "Fox & Friends" that he had watched Biden's performance in the Democratic primary debates.
"If you asked the president he'd say he's preparing for the debates by running the country as president," Murtaugh said Wednesday, reasoning that Trump's record will be a focus of his debate messaging. "I don't know that any actual debate prep has occurred to this point, and I don't know what the plans are to begin that."
While Biden still maintains a sizable lead in national polls, the race has tightened, according to some recent surveys. A Quinnipiac University survey published Wednesday showed Biden holding a 10-point lead nationally, but a Monmouth University poll had Trump's deficit falling within the margin of error.
The electorate is heavily polarized, experts noted, leaving only a small section of persuadable voters. The debates could represent a final opportunity in the closing weeks of the campaign for either candidate to reassure nervous supporters or convince undecided Americans before casting their ballot.
"Will he be ready, will he be disciplined, or will he approach the debates as another one of his press conferences with a sort of stream of consciousness," McKinney said. "All of this attention on Joe Biden and will he be up for it, how will the president perform in these debates. Will the president's performance be at a level where it might reassure some of these wavering individuals."
Suspect Who Shot 2 Louisville Cops During Breonna Taylor Protests Identified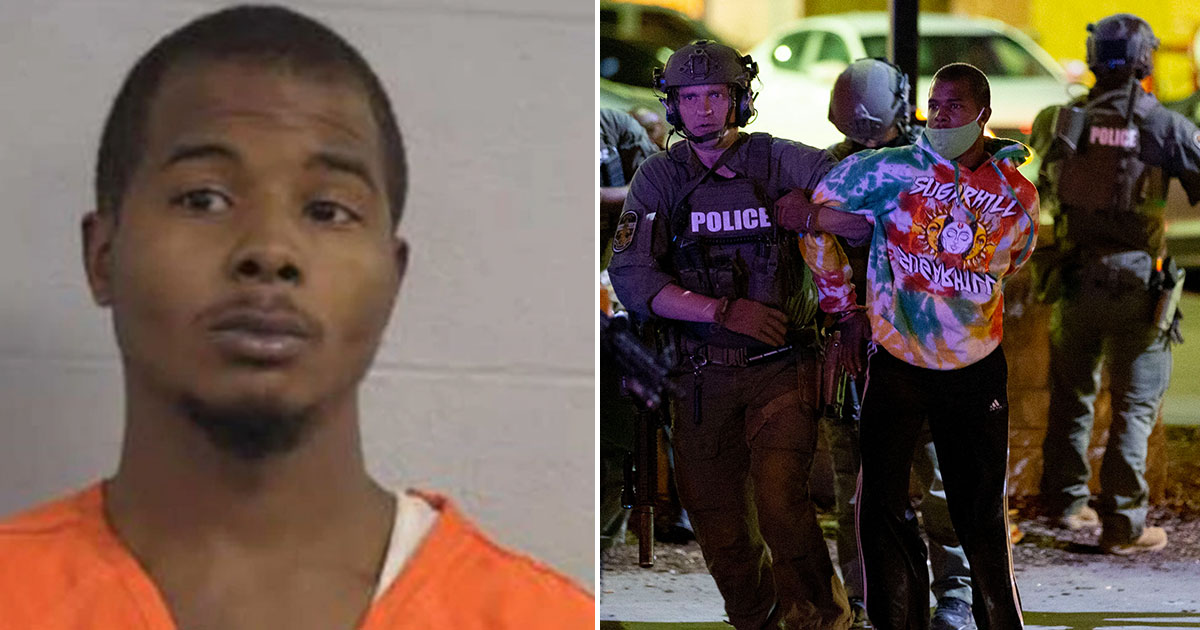 Officials with the Louisville Metro Cops Division have actually recognized the man captive that they say shot and injured 2 law enforcement officers Wednesday evening (Sep. 23) amid objections in the city.
The Louisville Courier-Journal reports:
Larynzo Johnson, 26, was apprehended at 8: 40 p.m., according to his citation, which mentioned he would certainly face numerous costs of first-degree assault of a police officer and first-degree wanton endangerment.

LMPD acting Principal Ronert Schroeder stated Thursday that the suspect will certainly be billed with 2 counts of attack and 14 counts of wanton endangerment, "all guided versus law enforcement officer."

Johnson is implicated of shooting two LMPD officers around 8: 30 p.m. Wednesday evening, as demonstrations continued across the city in the after-effects of the announcement that simply among the three police officers who terminated their weapons the evening Breonna Taylor was killed would certainly encounter costs.

Johnson's apprehension citation, offered by the workplace of the Jefferson Area Circuit Notary, said the suspect's actions "revealed an extreme indifference to the value of human life" and also put policemans at the scene at risk of death or serious injury.

The citation said LMPD officers were reacting to a big crowd at Broadway as well as Creek Street in downtown Louisville that had actually established fires and would certainly not spread after being warned.

Johnson was amongst the group and "deliberately utilized a handgun to fire numerous bullets at officers. Two police officers with LMPD were struck by the bullets causing serious physical injury."

Witnesses determined him as firing the gun and afterwards ranging from the scene, the citation states, and he was in belongings of a handgun when he was restrained.

Footage reviewed by LMPD policemans, according to the citation, showed him shooting the tool, as well as a National Integrated Ballistic Details Network examiner was exploring an association between the firearm recuperated as well as covering housings recouped from the scene.

" There is a high chance that a tiny contrast, by a guns inspector, will confirm the organization in between the gun's ballistic proof," the citation from the detaining officer states.

Johnson's document shows no previous arrests for terrible criminal activities or felony sentences. His address on the apprehension citation listed no residence address but "CAL," meaning city at big.

One Facebook Live video taken at the time of the shooting by a person in the group shows up to show a guy in a various colored hooded sweatshirt shooting a handgun at a team of officers. A male was nabbed putting on a t shirt that appeared to match that summary.

The two police officers injured in Wednesday evening's shooting were determined Thursday early morning as Maj. Aubrey Gregory and Robinson Desroches, an officer with LMPD's 2nd Department that has been with the division considering that March 2019.

Gregory was struck in the hip and also was released from the medical facility overnight, LMPD acting Principal Robert Schroeder said, while Desroches undertook surgical treatment after being hit in the abdominal area. He is also anticipated to make a complete recuperation, Schroeder stated.

" Last night's circumstance could have been so much worse for our policemans and also for individuals that were protesting when the shooting rang out," Schroeder stated. "… We are very fortunate these 2 officers will certainly recover."

The night before, Schroeder described the tense scenario as "extremely significant" as he talked to press reporters in a press instruction that was broken up after just minutes.

" I am extremely concerned about the safety and security of our officers," Schroeder said. "Clearly we've had actually 2 officers shot this evening, and that is extremely significant. … I assume the security of our police officers as well as the neighborhood we offer is of the utmost value."
And also to believe … every one of this could have been avoided had they jailed the police officers that killed Breonna Taylor.
Suspect Who Shot 2 Louisville Cops During Breonna Taylor Protests Identified is a message from: Chatter On This – Popular Culture, Information & & Videos
Kanye West gives Kim Kardashian birthday hologram of dead father
[ad_1]

Earlier this week, the reality TV star
was mocked on social media for revealing she had taken her family to a private island for her birthday.
[ad_2]

Source link
Covid: Wales 'will not have local lockdowns after firebreak'