House debates Postal Service changes, funds ahead of vote in rare Saturday session
WASHINGTON — The House passed a bill Saturday giving $25 billion in emergency funds to the U.S. Postal Service and reversing recent cost-cutting operational changes. Democrats are seeking to reinforce the agency ahead of the November election when many voters are expected to cast mail-in ballots due to the coronavirus pandemic.The vote passed 257-150 in…
WASHINGTON — The House passed a bill Saturday giving $25 billion in emergency funds to the U.S. Postal Service and reversing recent cost-cutting operational changes. Democrats are seeking to reinforce the agency ahead of the November election when many voters are expected to cast mail-in ballots due to the coronavirus pandemic.
The vote passed 257-150 in the Democratic-controlled House, earning some support from Republicans who expressed concerns about delayed mail. The bill is likely to meet significant opposition in the GOP-led Senate.
The rare Saturday session in August comes amid a national uproar over mail interference, putting the Postal Service and Postmaster General Louis DeJoy at the center of an unprecedented election year. The House will recess again until next month.
DeJoy, an ally of President Donald Trump, has been criticized for implementing cost-cutting measures, such as removing postal boxes and reducing post office hours, in an effort to disenfranchise those seeking to vote by mail during the pandemic. Many have also accused DeJoy of coordinating with the White House to undermine the vote by mail effort.
During a congressional testimony Friday, DeJoy said he would not restore the cuts that have already been made and was unable to provide senators with a plan for how he will handle the influx of mail-in ballots this November. He also would not say whether he did an analysis of how his policy changes would affect veterans, the elderly or families who send financial documents by mail.
Many Republicans have shrugged off Democrats' complaints as being overblown and Republican leaders urged their members to vote against the bill, accusing Democrats of promoting a "conspiracy theory."
Let our news meet your inbox. The news and stories that matters, delivered weekday mornings.
U.S. Senate Majority Leader Mitch McConnell, R-Ky., signaled distaste for the House bill in a tweet just minutes after the vote.
"House Democrats have spent weeks ignoring the urgent needs of American workers and families, but they rushed back to Washington the instant that overblown conspiracy theories about the U.S. Postal Service convinced them their own jobs might be in jeopardy," he tweeted.
McConnell has suggested he is open to additional Postal Service funding, but not as a stand-alone bill. He has called for a smaller amount of USPS funding to be part of a larger coronavirus relief bill.
Meanwhile, Sen. Elizabeth Warren, D-Mass., said in a tweet that House Democrats "are doing their jobs to help fund @USPS & protect it from sabotage. Just like they did their jobs & passed another COVID-19 bill months ago."
"Show some political courage & finally stand up to Trump, @SenateMajLdr McConnell," she wrote. "Call back the Senate & let us vote."
Trump has also said he wants to block agency emergency funding for the Postal Service because he opposes expanding access to vote by mail.
"Representatives of the Post Office have repeatedly stated that they DO NOT NEED MONEY, and will not make changes," Trump tweeted Saturday before the vote, calling it "another HOAX by the Democrats."
When asked about the tweet, Speaker of the House Nancy Pelosi, D-Calif., said, "He says everything's a hoax cause he's a hoax."
Carolyn Maloney, D-N.Y., the chair of the Oversight Committee and the bill's author, released on Saturday afternoon new internal Postal Service documents that show DeJoy was notified of nationwide delays over the last two months due to his operational changes.
"To those who still claim there are 'no delays' and that these reports are just 'conspiracy theories,' I hope this new data causes them to re-think their position and support our urgent legislation today," Maloney said in a statement.
Rep. Dan Meuser, R-Pa., said he abstained from voting after testing positive for the coronavirus but would have voted against the bill, saying calls to direct $25 billion to the postal service "are not reflective of the data or the reality of the situation."
Rep. Rodney Davis, R-Ill., said Saturday he voted for the bill because the USPS is a "lifeline to the communities I represent."
"The men and women of USPS are working tirelessly during this pandemic, and we need to do everything we can to support them," he tweeted after voting.
The Postal Service provides a lifeline to many people beyond just mail-in ballots, particularly more rural areas where it is not efficient for private companies to operate, delivering drugs, financial statements and other items that are especially needed by mail during the pandemic.
DeJoy, a major GOP donor, is the first postmaster in 20 years with no experience at the agency. He previously owned a logistics business that was a longtime Postal Service contractor.
Alicia Victoria Lozano and The Associated Press
contributed.
Suspect Who Shot 2 Louisville Cops During Breonna Taylor Protests Identified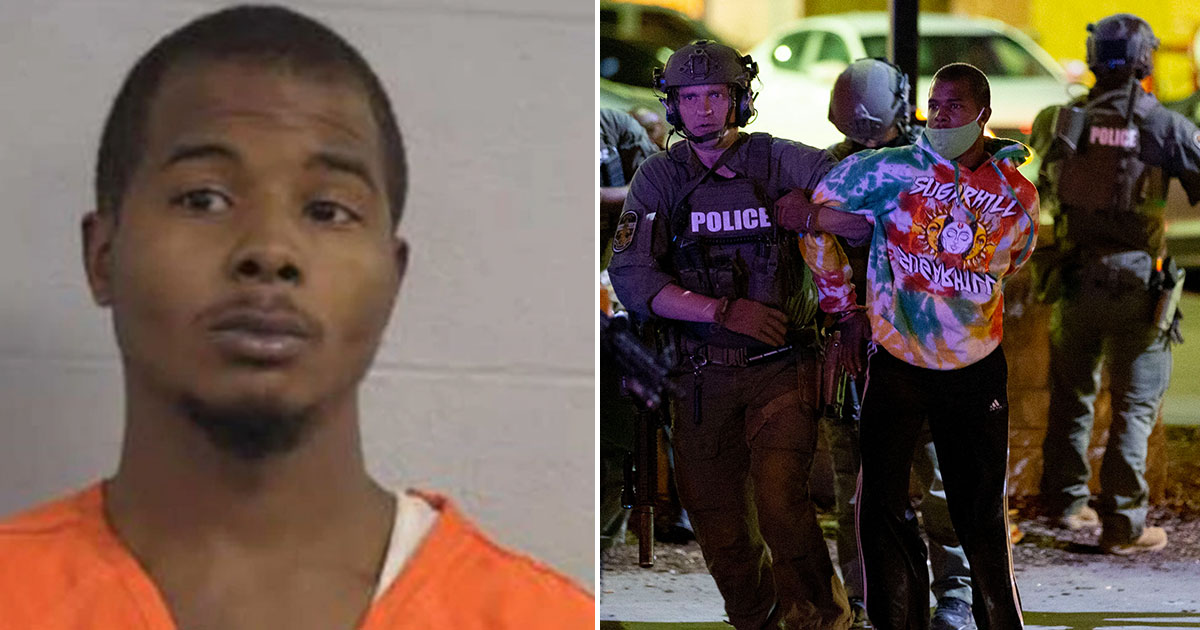 Officials with the Louisville Metro Cops Division have actually recognized the man captive that they say shot and injured 2 law enforcement officers Wednesday evening (Sep. 23) amid objections in the city.
The Louisville Courier-Journal reports:
Larynzo Johnson, 26, was apprehended at 8: 40 p.m., according to his citation, which mentioned he would certainly face numerous costs of first-degree assault of a police officer and first-degree wanton endangerment.

LMPD acting Principal Ronert Schroeder stated Thursday that the suspect will certainly be billed with 2 counts of attack and 14 counts of wanton endangerment, "all guided versus law enforcement officer."

Johnson is implicated of shooting two LMPD officers around 8: 30 p.m. Wednesday evening, as demonstrations continued across the city in the after-effects of the announcement that simply among the three police officers who terminated their weapons the evening Breonna Taylor was killed would certainly encounter costs.

Johnson's apprehension citation, offered by the workplace of the Jefferson Area Circuit Notary, said the suspect's actions "revealed an extreme indifference to the value of human life" and also put policemans at the scene at risk of death or serious injury.

The citation said LMPD officers were reacting to a big crowd at Broadway as well as Creek Street in downtown Louisville that had actually established fires and would certainly not spread after being warned.

Johnson was amongst the group and "deliberately utilized a handgun to fire numerous bullets at officers. Two police officers with LMPD were struck by the bullets causing serious physical injury."

Witnesses determined him as firing the gun and afterwards ranging from the scene, the citation states, and he was in belongings of a handgun when he was restrained.

Footage reviewed by LMPD policemans, according to the citation, showed him shooting the tool, as well as a National Integrated Ballistic Details Network examiner was exploring an association between the firearm recuperated as well as covering housings recouped from the scene.

" There is a high chance that a tiny contrast, by a guns inspector, will confirm the organization in between the gun's ballistic proof," the citation from the detaining officer states.

Johnson's document shows no previous arrests for terrible criminal activities or felony sentences. His address on the apprehension citation listed no residence address but "CAL," meaning city at big.

One Facebook Live video taken at the time of the shooting by a person in the group shows up to show a guy in a various colored hooded sweatshirt shooting a handgun at a team of officers. A male was nabbed putting on a t shirt that appeared to match that summary.

The two police officers injured in Wednesday evening's shooting were determined Thursday early morning as Maj. Aubrey Gregory and Robinson Desroches, an officer with LMPD's 2nd Department that has been with the division considering that March 2019.

Gregory was struck in the hip and also was released from the medical facility overnight, LMPD acting Principal Robert Schroeder said, while Desroches undertook surgical treatment after being hit in the abdominal area. He is also anticipated to make a complete recuperation, Schroeder stated.

" Last night's circumstance could have been so much worse for our policemans and also for individuals that were protesting when the shooting rang out," Schroeder stated. "… We are very fortunate these 2 officers will certainly recover."

The night before, Schroeder described the tense scenario as "extremely significant" as he talked to press reporters in a press instruction that was broken up after just minutes.

" I am extremely concerned about the safety and security of our officers," Schroeder said. "Clearly we've had actually 2 officers shot this evening, and that is extremely significant. … I assume the security of our police officers as well as the neighborhood we offer is of the utmost value."
And also to believe … every one of this could have been avoided had they jailed the police officers that killed Breonna Taylor.
Suspect Who Shot 2 Louisville Cops During Breonna Taylor Protests Identified is a message from: Chatter On This – Popular Culture, Information & & Videos
Kanye West gives Kim Kardashian birthday hologram of dead father
[ad_1]

Earlier this week, the reality TV star
was mocked on social media for revealing she had taken her family to a private island for her birthday.
[ad_2]

Source link
Covid: Wales 'will not have local lockdowns after firebreak'