Debate: How does Steve Nash fit with KD, Kyrie and Nets?
Two-time NBA MVP Steve Nash is the new head coach of the Brooklyn Nets, taking on the task of championship pursuit with superstars Kevin Durant and Kyrie Irving. Nash has signed a four-year deal with the Nets, according to ESPN's Adrian Wojnarowski.Nash, 46, played 18 seasons in the NBA, most famously as the point guard…
Two-time NBA MVP Steve Nash is the new head coach of the Brooklyn Nets, taking on the task of championship pursuit with superstars Kevin Durant and Kyrie Irving. Nash has signed a four-year deal with the Nets, according to ESPN's Adrian Wojnarowski.
Nash, 46, played 18 seasons in the NBA, most famously as the point guard during the Phoenix Suns' "seven seconds or less" era. He remains a popular figure around the league, recently serving as a player development consultant for the Golden State Warriors during Durant's time with the team. But he has no prior head-coaching experience.
The Nets fired coach Kenny Atkinson midway through the season and Jacque Vaughn took over as interim coach before the team was bounced in the first round of the playoffs. Vaughn will now be Nash's lead assistant.
Our experts answer the big questions and look at what comes next in Brooklyn.
1. What was your first reaction to the news?
Bobby Marks: "Holy cow" is the clean version of what I said. I did not see this coming, especially since Nash has told people that he did not have a desire to become a head coach. But the ability to coach two franchise players in Durant and Irving and a roster that is built to win now — but still with an emphasis on player development — was too hard to pass up.
Tim MacMahon: I didn't believe that Nash had interest in a full-time coaching job. I figured he was happy serving as a Warriors consultant and a member of the soccer media and being a full-time father.
Kirk Goldsberry: Surprise. There were lots of names in the rumor mill, but Nash slid under the radar. But, just as "real trades travel in silence," it's fair to say that some of this league's splashiest coaching hires do too.
Tim Bontemps: Surprise about Nash finally taking the leap. Beyond his former role as a consultant with Golden State, he has been pursued for several NBA roles without taking any of them. But with the universal respect for him around the league, for his Hall of Fame career and his personality off the court, those inquiries weren't going to stop.
Brian Windhorst: It's a compromise and a risk. It was not a secret that Nets general manager Sean Marks was interested in having Vaughn stay in the job after his performance as interim coach. But it was also not a secret that there was a desire elsewhere in the organization for a bigger name to manage the personalities in play. So this is a heck of a brokered deal as Marks gets a guy he knows — they were teammates in Phoenix — and the players get a guy who has their respect.
2. What's the best case for this hire being a success?
Goldsberry: That Nash is a savant. He's basketball's answer to Zinedine Zidane, and a true tactician who changed the way we look at guards in the post-handcheck NBA. He knifed through defenses and created shots on the edges and at the rim, while also understanding how to score the ball himself in very efficient ways. He's one of the symbols of the league's post-Jordan evolution, and his time with the Warriors has only furthered his understanding about how to win it all in a jump-shooting league.
MacMahon: Nash is without a doubt a brilliant basketball mind who learned from a couple of the game's great innovators, playing for Don Nelson and Mike D'Antoni, and was a behind-the-scenes part of the Golden State dynasty. He arrives in Brooklyn with an established rapport with Durant, and given his Hall of Fame credentials, he should have immediate credibility with Irving.
Bontemps: That his understated, even-handed personality will get the best out of this team. People will immediately point to the success Steve Kerr has had with Golden State as a path for how this could go, at least in a best-case scenario. If Nash can come anywhere close to that, the Nets will be thrilled.
Windhorst: That Durant supports it. Marks made it clear, on the record, that Durant was going to get a say in this hire — as he probably should. Nash was around Durant quite a bit when he was a consultant in Golden State. That connection helps this new partnership get off the ground.
Marks: You might hear that this is comparable to when Brooklyn hired Jason Kidd. But I was part of that Nets front office in 2013, and this is not exactly the same. Those teams were built with aging veterans and no safety net. The roster was good on paper but the pieces did not fit, and Kidd was forced to develop as a coach within a tiny window. Nash will coach Durant and Irving in their primes (assuming good health), and they are under contract for three more years. There is also a strong foundation in place with both veterans (Spencer Dinwiddie and Joe Harris) and young players (Caris LeVert and Jarrett Allen). But most importantly, Nash has the full support of Marks and ownership.
---
3. What's the best case against?
Windhorst: Lack of experience. This reminds me of the Kidd hire. In 2013, the Nets made Lawrence Frank the highest-paid assistant in the league, just as they are now doing with Vaughn, according to Wojnarowski's report. They are trying to insulate Nash from his inexperience. With Kidd, it failed. With Kerr as a first-time coach, having veteran Alvin Gentry at his side, it worked. It could go either way.
Bontemps: There are so many intricacies to being a head coach. Not only does Nash have to learn them on the fly, he has to do so in New York, with massive expectations. As noted, this can be compared to the Kidd hire — including a prior relationship with a star player (in Kidd's case, Deron Williams). Brooklyn will hope this lasts longer than Kidd's tumultuous one-year run.
Marks: Inexperience. There are certainly more qualified coaches, including Tyronn Lue and Jeff Van Gundy. Nash will be walking into the media capital of the world, with expectations of leading the Nets to title contention. But with Vaughn, Nash will benefit from that institutional knowledge and Vaughn's experience as the coach of two NBA teams.
MacMahon: Nash not only has no head-coaching experience, but he's never even been a full-time NBA assistant coach. A Hall of Fame career as a point guard certainly doesn't guarantee immediate success as a head coach who hasn't paid dues as an assistant, as evidenced by the unsuccessful stint by Magic Johnson and mixed results for Isiah Thomas and Kidd. The dynamic between Nash and Vaughn — who certainly has the right to feel snubbed — will be critical.
Goldsberry: That he's not ready. This guy has never been a head coach before, and Irving does not get along with many coaches.
4. What can Nash learn about Irving and Durant from previous coaches?
Marks: Nash has a head start from working with the Warriors. It was there that he forged a relationship with Durant that continues today. And the time working with Kerr will prove to be invaluable, not only for X's and O's but also in dealing with adversity and high expectations. To work with Irving, it is important for Nash to learn what he can from Irving's previous coaches, including Byron Scott, Mike Brown, Lue and Brad Stevens.
MacMahon: Perhaps Nash could learn from Irving's previous coaches about the intricacies of dealing with the point guard's quirky personality, but discretion would be wise. Nash needs to earn Irving's trust, so the new coach needs to be careful about anything that Irving might perceive as a slight.
Goldsberry: Kerr turned the Warriors' offense inside-out when he landed in Oakland. He turned a pick-and-roll team into a motion-based, dribble-handoff team. In the process, he unlocked the team's incredible jump-shooting potential. Then, in 2016, when the team signed Durant, Kerr let KD iso, always a good option. Nash could look to do the same in Brooklyn. This season, the Nets were one of the most active pick-and-roll teams and one of the least active dribble-handoff teams. Bottom line: They need to find ways to get their shooters clean looks just like Kerr did in Golden State. Assuming they keep Joe Harris this offseason, Brooklyn will likely start three elite perimeter shooters in Harris, Durant and Irving. The trick will be devising an offense that maximizes their talents.
Bontemps: Given how much time Nash spent with the Warriors and how close he is with Kerr, I'm sure he has learned plenty. But, more than anything else, the Nets hired Nash because of his ability to connect with their stars. The team's statement read, "In Steve, we see a leader, communicator and mentor who will garner the respect of our players." No prior coach for Durant or Irving was a Hall of Fame player.
Windhorst: Irving and Durant can be a challenge, especially when their moods change. They can get caught in issues with teammates or the media or on social media. But they're both so talented, they often get the space to operate. Being their coach is less about play design or game plans than somehow giving that space while holding them accountable. The triangle was great, but it was Phil Jackson's ability to manage personalities that was his true gift. That's what Nash will need.
---
5. Fact or fiction: The Nets should make a big win-now trade.
Bontemps: Fact, without question. When you sign Durant — even as he's coming off an Achilles tear — the goal has to be to maximize your chances of winning right now. It's easy to say the Nets should make a big win-now trade. The question is: What big win-now trade can they make? Still, I expect the Nets to be aggressive to try to add talent to their roster this offseason.
Windhorst: Fact. Durant and Irving are now healthy. Leaguewide finances might be a little tighter this year, but Nets owner Joe Tsai is one of richest men in sports and can take some risks. No time like the present.
Goldsberry: Fact. The clock is already running. Boston, Miami and Milwaukee are already legit. Toronto is the defending champion. The East is not as breezy as it was when the Nets landed their dynamic duo last summer, and if Brooklyn wants to win with its current core, the team needs more firepower.
Marks: Fiction. Do the Nets need to bring in a third star? Not if LeVert can be that player. His play in the absence of Durant and Irving, especially in the games in Orlando, demonstrated his emerging all-around game, as he averaged 25, 5 and 7 while playing several positions, including point guard.
MacMahon: Doesn't that depend on what deal might be available? It seemed premature for Irving to declare that the Nets needed talent upgrades before Durant played a single second in a Brooklyn uniform. If the Nets' pair of superstar mercenaries are healthy, a supporting cast that features LeVert and Allen seems pretty formidable. But if LeVert and Allen can headline a package for, say, Joel Embiid? Yeah, Marks should probably pull the trigger.
Suspect Who Shot 2 Louisville Cops During Breonna Taylor Protests Identified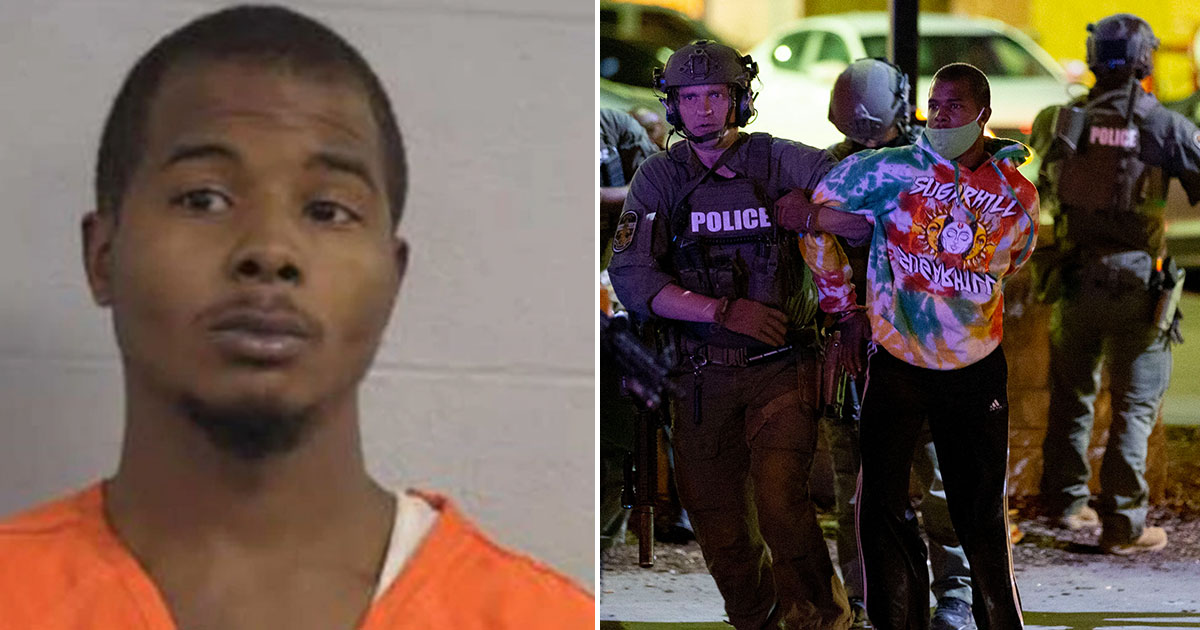 Officials with the Louisville Metro Cops Division have actually recognized the man captive that they say shot and injured 2 law enforcement officers Wednesday evening (Sep. 23) amid objections in the city.
The Louisville Courier-Journal reports:
Larynzo Johnson, 26, was apprehended at 8: 40 p.m., according to his citation, which mentioned he would certainly face numerous costs of first-degree assault of a police officer and first-degree wanton endangerment.

LMPD acting Principal Ronert Schroeder stated Thursday that the suspect will certainly be billed with 2 counts of attack and 14 counts of wanton endangerment, "all guided versus law enforcement officer."

Johnson is implicated of shooting two LMPD officers around 8: 30 p.m. Wednesday evening, as demonstrations continued across the city in the after-effects of the announcement that simply among the three police officers who terminated their weapons the evening Breonna Taylor was killed would certainly encounter costs.

Johnson's apprehension citation, offered by the workplace of the Jefferson Area Circuit Notary, said the suspect's actions "revealed an extreme indifference to the value of human life" and also put policemans at the scene at risk of death or serious injury.

The citation said LMPD officers were reacting to a big crowd at Broadway as well as Creek Street in downtown Louisville that had actually established fires and would certainly not spread after being warned.

Johnson was amongst the group and "deliberately utilized a handgun to fire numerous bullets at officers. Two police officers with LMPD were struck by the bullets causing serious physical injury."

Witnesses determined him as firing the gun and afterwards ranging from the scene, the citation states, and he was in belongings of a handgun when he was restrained.

Footage reviewed by LMPD policemans, according to the citation, showed him shooting the tool, as well as a National Integrated Ballistic Details Network examiner was exploring an association between the firearm recuperated as well as covering housings recouped from the scene.

" There is a high chance that a tiny contrast, by a guns inspector, will confirm the organization in between the gun's ballistic proof," the citation from the detaining officer states.

Johnson's document shows no previous arrests for terrible criminal activities or felony sentences. His address on the apprehension citation listed no residence address but "CAL," meaning city at big.

One Facebook Live video taken at the time of the shooting by a person in the group shows up to show a guy in a various colored hooded sweatshirt shooting a handgun at a team of officers. A male was nabbed putting on a t shirt that appeared to match that summary.

The two police officers injured in Wednesday evening's shooting were determined Thursday early morning as Maj. Aubrey Gregory and Robinson Desroches, an officer with LMPD's 2nd Department that has been with the division considering that March 2019.

Gregory was struck in the hip and also was released from the medical facility overnight, LMPD acting Principal Robert Schroeder said, while Desroches undertook surgical treatment after being hit in the abdominal area. He is also anticipated to make a complete recuperation, Schroeder stated.

" Last night's circumstance could have been so much worse for our policemans and also for individuals that were protesting when the shooting rang out," Schroeder stated. "… We are very fortunate these 2 officers will certainly recover."

The night before, Schroeder described the tense scenario as "extremely significant" as he talked to press reporters in a press instruction that was broken up after just minutes.

" I am extremely concerned about the safety and security of our officers," Schroeder said. "Clearly we've had actually 2 officers shot this evening, and that is extremely significant. … I assume the security of our police officers as well as the neighborhood we offer is of the utmost value."
And also to believe … every one of this could have been avoided had they jailed the police officers that killed Breonna Taylor.
Suspect Who Shot 2 Louisville Cops During Breonna Taylor Protests Identified is a message from: Chatter On This – Popular Culture, Information & & Videos
Kanye West gives Kim Kardashian birthday hologram of dead father
[ad_1]

Earlier this week, the reality TV star
was mocked on social media for revealing she had taken her family to a private island for her birthday.
[ad_2]

Source link
Covid: Wales 'will not have local lockdowns after firebreak'