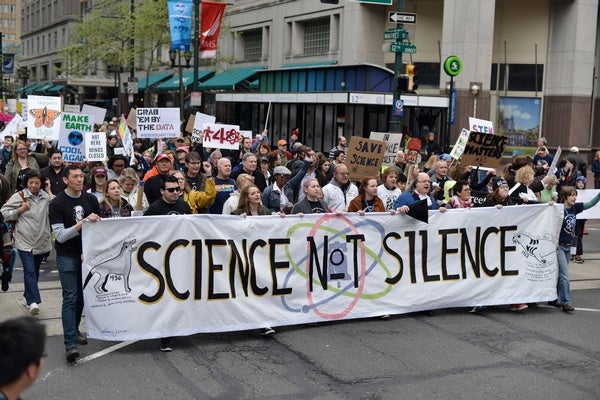 Government Scientists Are Censoring Themselves
By Blair Morris
February 29, 2020
canceled a scientific conference on the link between climate change and public health. The conference had been in the works for months. The CDC never officially commented on why the conference was canceled but said that the agency was considering options for rescheduling the conference in light of "budget priorities for the fiscal year 2017." The executive director of the American Public Health Association (APHA) and planned keynote speaker at the conference, Georges Benjamin, speculated that agency officials decided to call off the event rather than risk conflict with an incoming president who has repeatedly called climate change a "hoax."
Benjamin called the cancellation of the conference a "strategic retreat." The fear embedded in the minds of government scientists has been effective, it seems. CDC scientists who had worked on planning this important conference for months chose to delete "climate change" from their portfolio—they effectively censored themselves.
This isn't the only example of likely self-censorship among scientists. The fear of being targeted by this administration is even driving scientists outside of the government to self-censor. An analysis conducted by National Public Radio (NPR) found that the use of the term "climate change" in the title and summaries of grants awarded by the National Science Foundation (NSF) was down by 40 percent in 2017 compared with 2016. This may be no surprise, given that the EPA is reportedly no longer funding grants that mention "climate change," and many political appointees leading agencies are on the record denying climate change science.
The administration also made an example out of Joshua Tree National Park Superintendent David Smith by flying him all the way to Washington, D.C., to publicly slap him on the wrist for tweeting out science-based climate change information. David Smith's punishment was meant to serve as an example to government scientists to deter them from the forbidden "double C-word."
The Union of Concerned Scientists also has documented high levels of fear and self-censorship in a survey of federal scientists conducted during 2018. Across agencies, scientists reported omitting work on issues related to climate change even without explicit orders to do so—in other words, they self-censored their work. Over 700 scientists said that they had avoided working on climate change or using the phrase "climate change" without explicit orders to do so.
A scientist from an energy agency stated, "Although there are staff that work hard to maintain the core work and mission amidst ever-changing guidance on messaging (what words trigger leadership attention), it has become overly burdensome and it would be understandable for staff to, in essence, give up and limit scientifically sound work to avoid conflicts. In my opinion, it is not the majority that continues to creatively think of how to maintain scientific integrity given the current environment, but rather takes the path of least resistance and I honestly cannot blame anyone who does." Over 700 scientists have said that they had avoided working on climate change or using the phrase "climate change" without explicit orders to do so.
Self-censorship is a well-known sociopolitical-psychological phenomenon. As defined by Daniel Bar-Tal, a political and social psychologist, self-censorship is the act of "intentionally and voluntarily withholding information from others in absence of formal obstacles." Because there is some major cost associated with revealing the information, one might choose to conceal it. It is important to note that the choice to conceal information is not one that is easily made. This is because humans have a fundamental need to share information. Therefore, when one chooses to conceal information, especially information that may provide some benefit to society, then there is likely a serious motive for doing so.
Self-censorship is motivated by many different factors. In a societal-political context, Bar-Tal describes that the practice of self-censorship can be motivated by the level of authoritarianism in the political system. The more authoritarian the system is, the more individuals will practice self-censorship. This is because of fear that leadership will take retaliatory action if individuals were to speak up.
In a democratic institution, self-censorship is a problem because it prevents the free flow of information that is needed for public debate and transparency. Self-censorship hampers the ability of society to form new norms, ideas or beliefs, or to make new scientific discoveries. The truth matters, and self-censorship can deprive the public of information they need about work being done on their behalf.
We cannot afford to retreat from the science-based policies that help our nation respond effectively to complex challenges to public health, the environment and national security. Scientific information must be available to guide science-based decision-making, and we can't make good decisions in the public interest if scientists are so afraid of political leaders that they feel they must conceal the evidence. The free flow of information is crucial to the development of our great nation and enables us to strengthen our democratic society. We need to work to make sure that those values prevail.
The views expressed are those of the author(s) and are not necessarily those of Scientific American.
ABOUT THE AUTHOR(S)
Jacob Carter
Jacob Carter is a research scientist for the Center for Science and Democracy at the Union of Concerned Scientists. Prior to joining UCS, Dr. Carter worked at the Environmental Protection Agency as an Oak Ridge Institute for Science and Education (ORISE) Postdoctoral Fellow.